Welcome to SOCET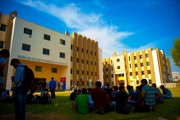 "SOCET is Located in the heart of Ahmedabad (Within the Municipal Limits of Ahmedabad) Which is Located 9 Kms from Ahmedabad Railway Station and 10 Kms from Ahmedabad International Airport."
It is Located at S.G. Road, Which is one of the most Happening and Highly Commercialized Roads of Gujarat.
The Campus of SOCET is Developed near the Educational Campus of Nirma University and DAIICT.As It is Located in the City .It is Ideal for Students to find good Paying Guests and Hostel Facilities.The Campus is Well Equiped with ATM of a Nationalized Bank, and Five Acres of Green Lawns along side the college Buildings.